I have finished my first challenge quilt for 2010. If you have read my previous post, you will remember I used my cat Casper as the subject. He is a white cat with black spots. I chose to portray him in blue colors. I made a parfait dye of 4 fat quarters in blue for this piece. He also has pink highlights around his ears, eyes and nose with green eyes. I am keeping those colors while the rest of Casper will be shades of blue.
As I was watching the Olympics in the evenings I cut out all the small pieces with steam-a- seam (a fusible web) behind the pieces. I used a white muslin as my base, then placed all the cut pieces on it according to my drawing. Here is a picture of all the pieces put together:
Next I fused the pieces to the muslin base. Then I picked a piece of fabric that I had snow dyed this winter as the background. I carefully cut away the white muslin that was showing and attached the blue cat to the background.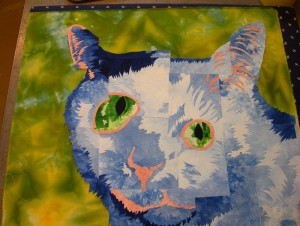 The next step was to quilt the piece. I was trying to decide whether to stitch-in-the-ditch around each square or try to see the work as a whole, quilting it as if it was not disjointed. In the end, I did a little bit of both. Where the areas of color flowed into the next block, I treated it as one area. In other places I stitched around the block to attach it to something. When finished quilting, I put a facing around the quilt instead of a binding. The finished size is 19×17 (inches)
In the end I like the way this piece turned out. It gives my cat a freaky, odd look. Which to know Casper, it fits his personality–odd and well, just plain puzzling at times. I have often said he has the personality of someone with Asberger's Syndrome. But to know him is to love him (and I do).
As always, you can click on any picture to see a bigger version.