I have a friend who wrote a book about building an ice rink in his backyard. I did the cover illustration and also some pen and ink drawings for the beginning of each chapter. The cover started out as a rough pencil drawing.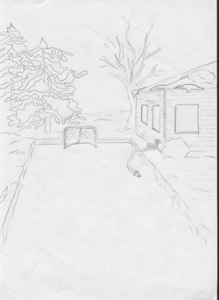 rough draft of ice rink drawing
I scanned the drawing into the computer and finished it in Photoshop. I'm not an expert on Photoshop–just learning so this was a good project to work on. Michael did help with some finishing touches such as the string of lights and general tricks for depth perception. The following is a picture of the front cover, then a picture of the front & back covers together.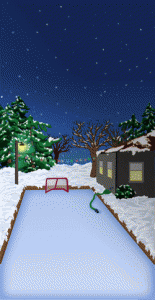 The ice rink front cover as completed in Photoshop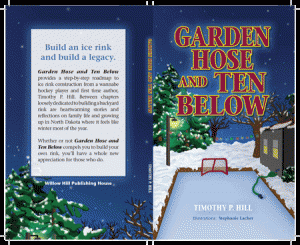 This is the complete front and back cover, including tittles
The pen & ink drawings were done first as quick sketches. Then I decided which drawings I liked the best and redrew them with more details in pen & ink. Here is the finished product: