During our Feb Quilter's Guild meeting, we learned how to make a checkerboard quilt. It was a fun process to learn (and easy too). The class example had an appliqued pot with flowers and was done in pastel colors. The colors I chose did not want to be flowers. So…after thinking about it for awhile, I appliqued fish in each of the 4 corners.
Since the checkerboard lines were wavy, I decided to make the edges wavy too. This posed a bit of a challenge when attaching the binding. I thought I had gentle curves, that is until I tried sewing around them. All-in-all, the binding turned out, not too horrid. I did have some puckering around the corners but, I don't see how I could have completely avoided it. And of course, I'm doing this last minute to show off at the March guild meeting.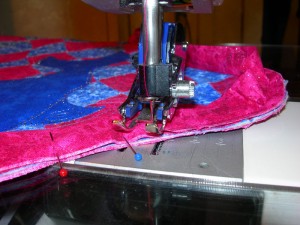 I was trying to keep the quilting simple as I notoriously make things more complicated than necessary. I echo quilted around the fish using Sharon Schamber's halo.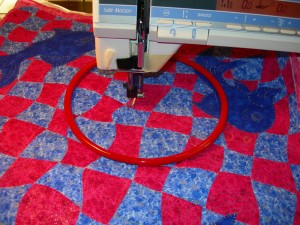 As soon as I had echoed around the fish a couple of times, I didn't like it!!!! I don't have a stitch regulator on my domestic machine, and you sure can tell when you look closely at this quilt. I had only completed a small portion when I was wishing I had put this on my longarm machine. But, by this time I just need to finish the project. Since this was a learning quilt, well, I just kept on going. A guild member told me, it looks like a human quilted it and that's how she like things to look.
Not sure what I will end up doing with the finished product. Right now, it's reminder to me of what not to do.